By: Jayson Patrick Isagon, PNS Batch 12
It has been months since I graduated from college. It was surreal that finally, I was able to move a step forward and a step closer to achieving my dream of becoming a Certified Public Accountant. I graduated Cum Laude with a degree of Bachelor of Science in Accountancy at the Polytechnic University of the Philippines – Manila.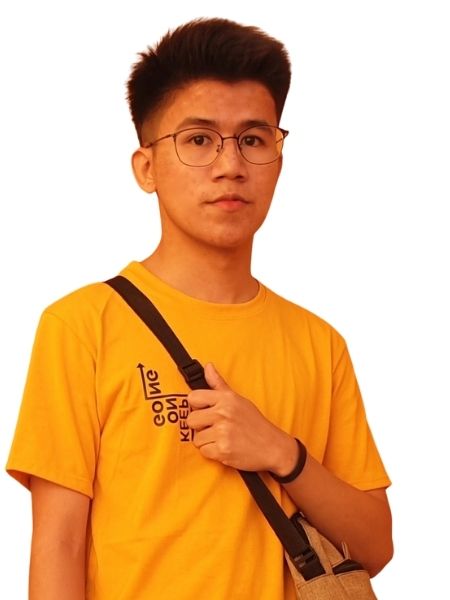 A little story about how my college life went; my college life revolves around academics and extracurricular activities. I didn't have the chance to become a spontaneous teenager who goes to gigs and concerts as leisure. Almost all of the time, I am staying up late studying and preparing for quizzes and examinations at coffee shops near our dormitory and library in our university.


In my junior year, I was given an opportunity to become an officer of the PUP Junior Philippine Institute of Accountants (JPIA), a student and academic organization of Bachelor of Science in Accountancy. My position was Associate Vice President for Academic Affairs, which is responsible for providing the members' such events that will develop and prepare them academically. Examples are Symposiums, Quizbees, and reviews, and Tutorials.
In my senior year, I became the Chairman of the PUP JPIA's FINEST, a committee that is responsible for representing the university to the different academic competitions within and outside the region. I have experienced competing for quiz bees in Baguio, Cavite, Quezon Province, Batangas, Cebu, Ilo-Ilo, and Davao. Because of that, I met a lot of accountancy students from different universities which expands my network as a future professional. One of the biggest quiz bees that I have participated in is the National Accounting Quiz Showdown (NAQDown). The format of the competition is the Top 5 scorers from NCR, Luzon, Visayas, and Mindanao will compete with each other in the final round. In the NCR Hub, it was participated by the big universities like DLSU, FEU, PLM, LPU, PUP, and much more. With God's grace, I topped the NCR Hub. This qualifies me to compete in the National Arena. The final round was held in Ilo-Ilo. My contenders were from prestigious universities across the country like Holy Angel University, Ateneo De Davao University, University of San Jose Recoletos, and many more. The competition was too difficult, as it should be. In conclusion, I achieved the 7th spot among the 20 of us. It is still an achievement for me even though I wasn't able to bring home the awards. I learned so much from that experience, and I think that is one of the highlights of my college life.
Coming from a broken family, growing up became a real challenge. I grow up without my biological mom beside me. It was my dad and my stepmother who was there to support and provide for my siblings and me. I was not that close to my stepmother, that is why most of the time, I only tell my concerns and problems to my Dad. It is the reason why I am lonely now. I lost my Dad and my Lolo during this period of the pandemic. My dad was battling Beta Thalassemia since early 2010. Since then, my dad was always confined to hospitals and, regular blood transfusion was the only way available for us to save his life. He was also a victim of this COVID-19 pandemic, but he was a survivor of this virus. Unfortunately, because of heart failure due to various complications he was suffering, he passed away last June 28. I don't know how to start again after my dad left. He is the reason why I am working hard in my college life. I want to give him and my family the comfort and financial stability that we never experienced while I am growing up. He was always excited about the day that I will graduate and get the degree that we both dreamed of, but unfortunately, he wasn't able to see me delivering my valedictory speech during our recognition day in PUP. Even though he is not here, I know my dad is proud of what I have achieved. I will continue what I have started. I will still do great in everything that I will do.
There was a time in my freshman year that I only have money for transportation but none for food for the whole week. And I came up with the decision to try applying for scholarships to support me financially. I applied for the PHINMA National Scholarship, and luckily, I am one of the fortunate students who experienced the PNS brand of support. I am glad that the scholarship supports me not just financially but wholly. What I mean is I really do felt that I am supported in many ways like personal development, self-improvement, growth, my purpose, etc. It is so fulfilling to feel that someone is supporting me behind my back, and what I need to do is to continue dreaming, to continue reaching it, and once I achieved it, do what PNS has done for me, to make others' lives better as well.
The mentorship program of the scholarship is very unique and helpful in its own way. It is to guide every scholar in their personal and professional growth. Kuya Jude Lozano, a Senior Audit Officer of PHINMA Corporation is my Big Brother. Because of the mentorship program, I was able to share with Kuya Jude my happiest and darkest life moments and my highs and lows which is so fulfilling because I have someone beside me to listen and to guide me in the path that I am taking. Aside from that, I was able to grasp a bit of the real professional world of Audit.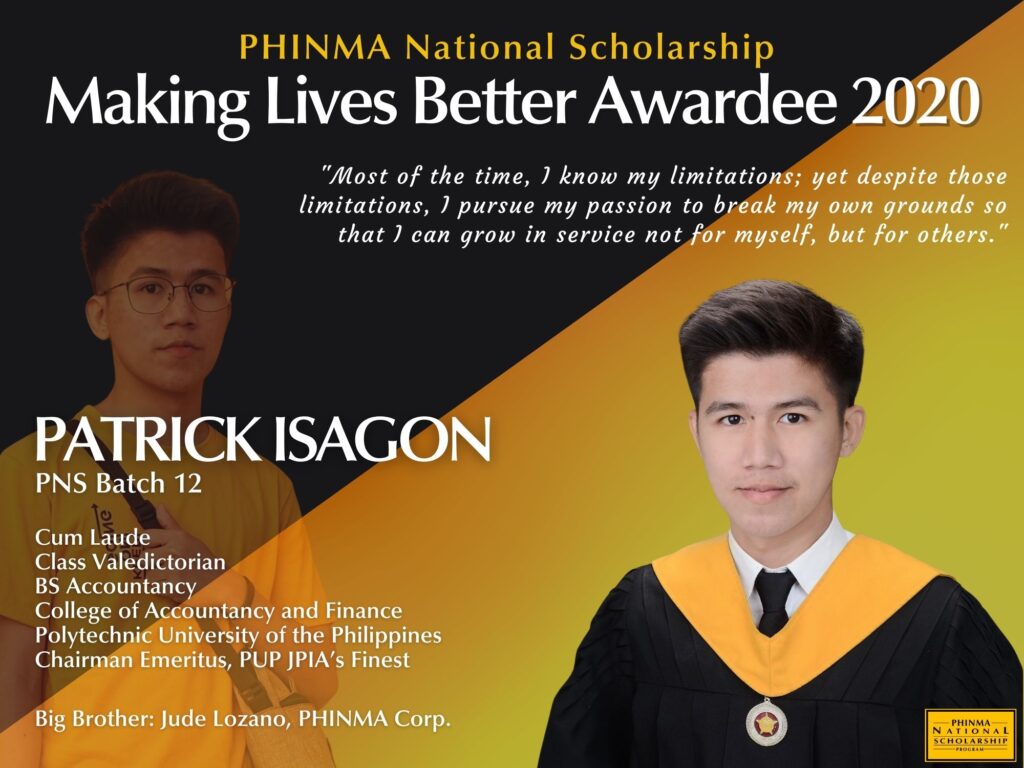 What a journey it has been. I never thought that I would be this version of me. Huge thanks to the PHINMA National Scholarship Program for being my light during my dark days. Thank you again for the investment in students like myself and in our education. It allowed me to focus on the most important aspect of school, learning. I hope that one day I will also be able to help students achieve their goals as you've helped me.
Isang pribilehiyo and maging Iskolar ng Bayan at maging bahagi ng organisasyon ng PHINMA upang mamantas bilang manunuos na lagi't lagi para sa bayan.