GRANTS
PHINMA supports like-minded organizations that share in its mission of making lives better. Through PHINMA Foundation Inc., the Group is able to bestow financial assistance to various causes.
Culture and Arts
PHINMA Foundation, Inc. is a supporter of Philippine arts and culture. The foundation provides grants to artists and art institutions that preserve Filipino identity and heritage. Among those that have benefitted from endowments are the Ballet Philippines and the Philippine Educational Theater Association.

Education
PHINMA Foundation, Inc is committed to education. Aside from the flagship program, PFI gives financial assistance to students studying in science schools through its Science and Engineering Fund. PFI gives a stipend to high school and college students to help in their education. PHINMA Foundation is assisting 112 students in 20 different schools.
PHINMA also supports the education of seminarians through the PHINMA Foundation's Seminarian Fund. The fund was put up to commemorate the canonization of St. Lorenzo Ruiz, a missionary priest who was martyred, and aims to help seminarians who are preparing for the priesthood in poor dioceses. The PHINMA Foundation also has a Bishop's Fund that is available to diocesan priests recommended by a bishop, who wishes to pursue further studies.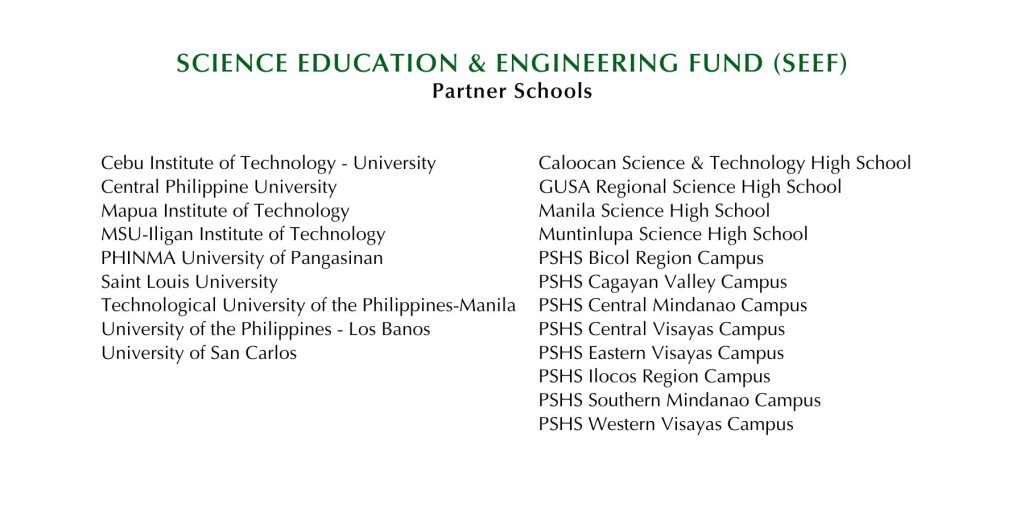 Disaster Response
PHINMA Foundation is active in helping communities especially those who need it the most. PHINMA Foundation contributes to the rehabilitation of disaster-hit areas through rebuilding, relief goods, and donation efforts.

---