PHINMA celebrates 66 years of making lives better with new batch of scholars, stronger outreach programs
MANILA – In celebrating its 66th founding anniversary, diversified Filipino conglomerate PHINMA Corporation welcomed a new batch of recipients of its scholarship program and held a Thanksgiving Mass and a series of outreach activities meant to show gratitude and appreciation to the people who make lives better.
Throughout the month of November, members of the PHINMA Group and partner communities joined outreach activities in different parts of the country under the 1PHINMA Reaches Out program. A total of 1,300 PHINMA Heroes participated in these activities, which ranged from bloodletting, tree-planting, and coastal and river clean-up drives.
This year's activities were held in communities close to PHINMA businesses, such as real estate developments and hotels, and our longtime partner areas. Bloodletting activities were held in PHINMA Properties' premises to invite the employees and residents to donate. Cleanup drives were also held in areas close to PHINMA Hospitality establishments.
On November 18, Ms. Riza Mantaring, independent director at PHINMA, gave a keynote address during the company's anniversary luncheon. The former CEO and Country Head of the Sun Life Financial group of companies in the Philippines talked about professionalism, and how "it's not the job that you do; but how you do the job." With various stories from her life in and out of the corporate world, Ms. Mantaring told the audience of students, stakeholders, and PHINMA employees about what professionalism entails. This includes being present, keeping high standards, doing what you say you will do, being trustworthy, owning up to mistakes, respecting others, and behaving appropriately.
During the luncheon, PHINMA also awarded scholarships to 46 students from Philippine Normal University (Manila), University of the Philippines (Diliman), Polytechnic University of the Philippines (Sta. Mesa), and PHINMA University of Pangasinan (Dagupan and Urdaneta). This brought the total number of current recipients of the PHINMA National Scholarship program to 100.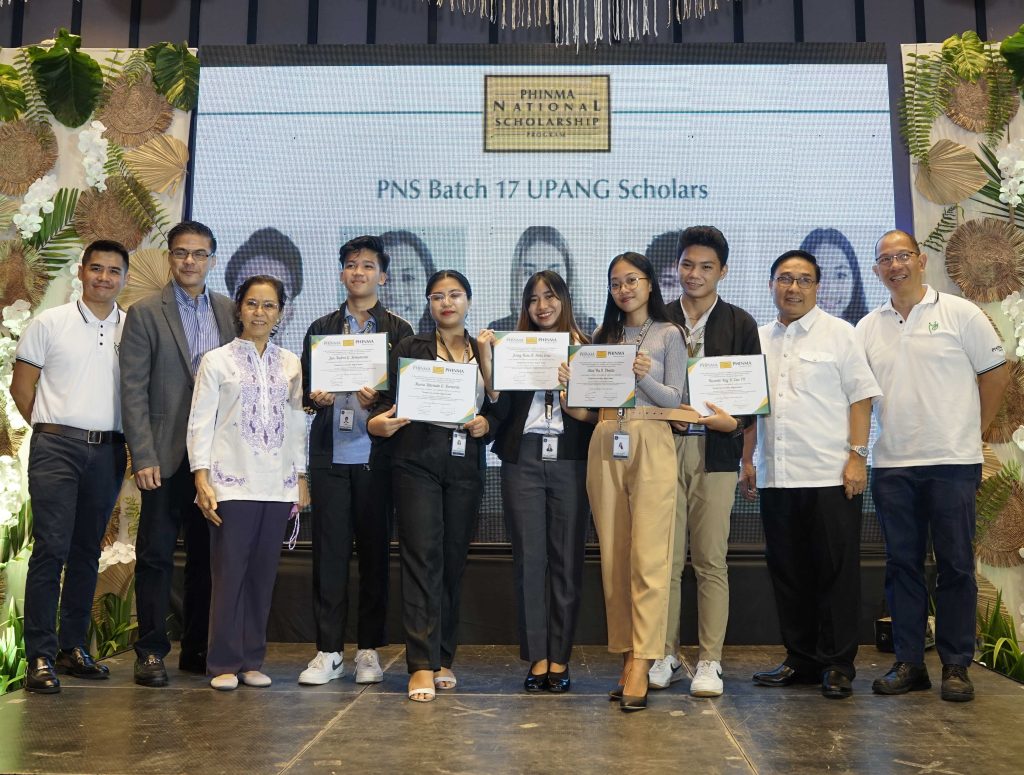 "Our program seeks out youth with both outstanding academic performance and leadership potential. Our new scholars are here today because PHINMA hopes to empower them to become leaders in the education, engineering and accounting communities in the country. To accomplish our mission and help build a better Philippines, PHINMA has always believed that we need to keep developing such young leaders," PHINMA Chairman and CEO Ramon R. del Rosario, Jr. said in his welcome remarks.
Archbishop Socrates Villegas led the Thanksgiving Mass the same day. In his homily, he shared his gratitude for PHINMA's existence in the Philippine society because its mission of making lives better "is very close to the heart of the Church also." He also offered pieces of advice on how to make the company more responsive to the needs of Filipinos today: lakas ng loob, ganda ng loob, and kalooban. He challenged PHINMA to show "visionary leadership, visionary service to society, and visionary contribution to nation-building."
The month-long anniversary events are consistent with 1PHINMA's thrust of being a business that does good while doing well and every employee and stakeholder's contribution to its mission of making lives better.