Summer break was a busy time for the PNS Scholars of PNU. This year, the PNS education majors spent four weeks in five different communities all over Metro Manila under the PNS Summer Service Program (SSP).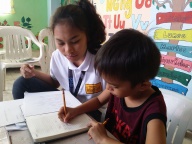 Summer educational programs were offered to the partner communities of PHINMA Properties and Holdings Corp. namely, GK Sitio Ruby and GK Sto.Nino. Classes were also conducted for our partner communities, GK Zabarte and Makabata School Foundation Inc. PNS also teamed up with Multinational Foundation Inc.'s Home Education and Livelihood Program (MFI-HEAL) to teach the out-of-school youth in Paranaque City.
To support the Commission on Higher Education's (CHED) K-12 Transition Program, 5 PNS Scholars served as interns for the project. The internship allowed the scholars to gain a deeper understanding of the K-12 Program and CHED's initiatives.
"I'm so grateful for the opportunity that was given to me, especially the chance to share the knowledge that I have to these children… I felt ecstatic and overjoyed to see the smiles in their faces whenever they learned a new lesson from me." – Al Jireh Malazo, 2nd year student, PNU