PHINMA had its largest volunteer activity, called PHINMA Reaches Out last August 12, 2016. Nearly 2,000 volunteers from the PHINMA community participated in various activities in nearly 38 different sites nationwide.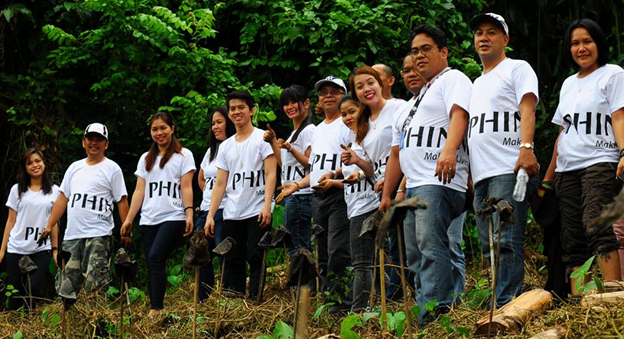 Small Acts, Big Difference
"You may think it's a small thing what you did today, but it has an impact," said one Microtel volunteer.
PHINMA planted more than 8,000 seedlings, gave free dental and medical checkups to nearly 900 people, and cleaned up reef and coastal areas. PHINMA also had house building and house painting, clean up drives in heritage sites, and traffic assistance in schools.
In Celebration of its 60th
The activity was the kick-off celebration for PHINMA's 60th Anniversary. "We are very proud with the turnout of the project and we are excited to have this event be the start of our year-long celebration for our 60th anniversary. Reaching out to people and doing everything we can to try and make their lives better while building our nation is at the heart of why the company exists." Ramon Del Rosario Jr. said in the Manila Times.
Working towards One Goal
"I love how we were all from different business and companies, but we were all working for one goal," said one volunteer. Employees from the different PHINMA companies joined in PHINMA Reaches Out.
Students, LGUs, and subcontractor also participated in the event. "The activity was really about bonding with co-employees, business partners as well as the essence of volunteerism," said Dennis Savellano of UGC.

For Nation-Building
The volunteer activities were conducted in 38 areas. Some areas are Bataan, Bulacan, Nueva Ecija, Cagayan de Oro, Iloilo, Pangasinan, Cebu, Laguna, Baguio City, Cavite, Manila Bay, Tarlac, La Union, Camarines Sur, Bacolod City, Iloilo, Leyte, Cagayan de Oro, Davao, and Zamboanga. The activities of environmental preservation, community building, and community development were conducted to help improve lives.

"PHINMA is really about nation-building from the very beginning. Our founder, Ramon Del Rosario Sr., is really known as a man who wanted to build a greater country. We've carried that spirit and legacy onwards and we've really made it a mission to build a better Philippines," said Edmund Qua Hiansen of PHINMA Foundation.
PHINMA Reaches Out was one of the ways that PHINMA gives back. An employee volunteer said it best, "It really is about helping out and sharing what we have."