PHINMA Foundation, Inc and HR's Wellness in partnership with Philippine Red Cross held its annual blood drive. The blood drive took place last July 27, 2016 from 2-5 pm at Basement 1 of PHINMA Plaza.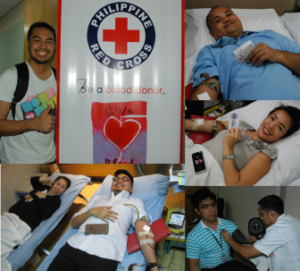 Red Cross collected 20 bags of blood from employee volunteers. "PHINMA has always been active in blood drives.
We have been partners for a while" said one of the Red Cross representatives.
"I was a bit scared at first." said one first time volunteer. According to Red Cross, most first timers are hesitant because of the supposed pain. "This is a way of giving back."
There are plenty of benefits of donating blood. Constant blood donation lowers the risk of heart disease and liver problems by helping maintain healthy iron levels. More than the health benefits, blood donations also help save lives. Through contributions of blood donors, patients-in-need are provided with blood.