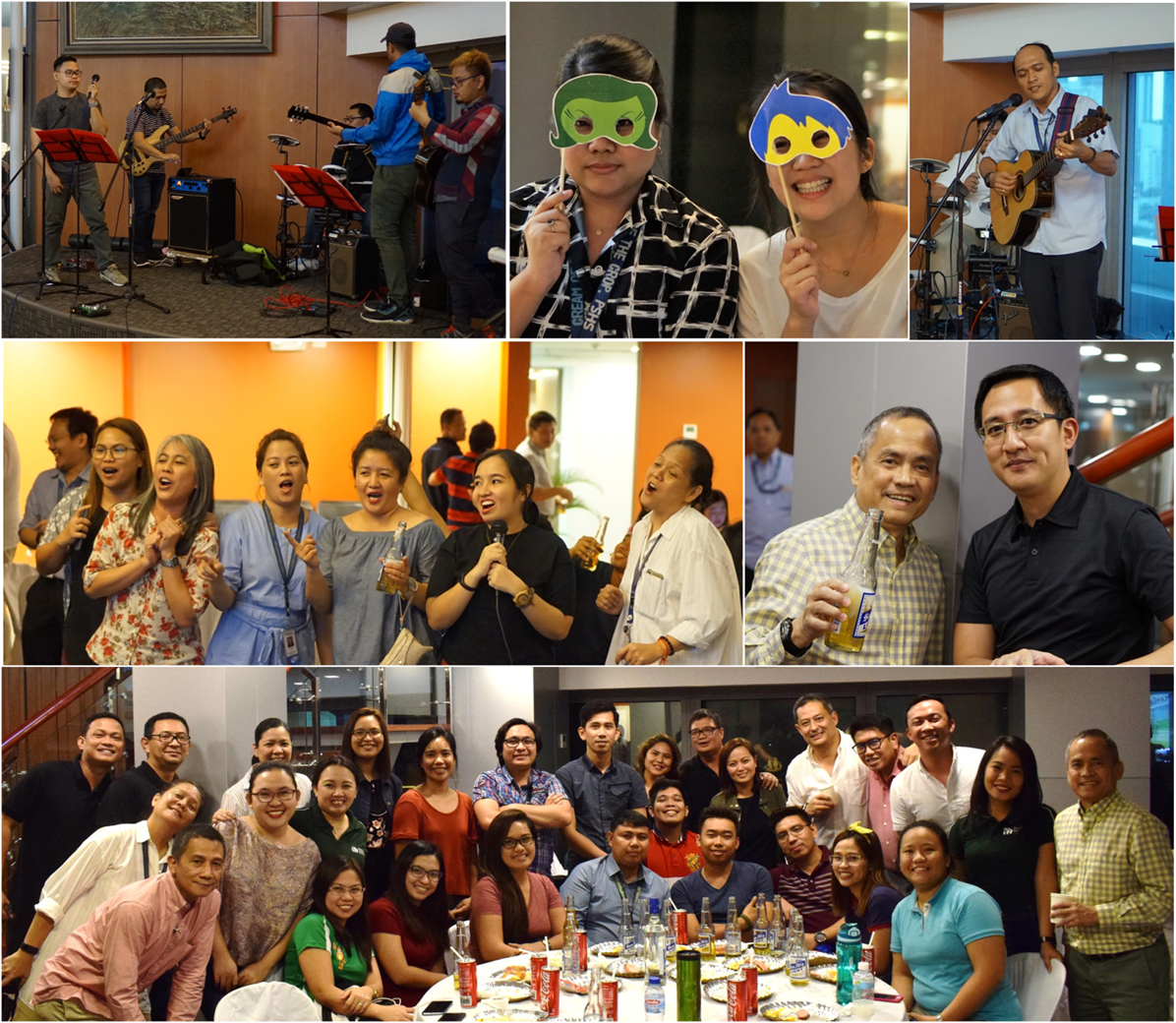 We raise a toast to all PHINMA HEROES!
PHINMA Foundation's Beer, Brats, and Heroes 2017 gathered 200 employees for a celebration and a cause last 20 October 2017 at the Roofdeck of PHINMA Plaza.
A celebration and a cause
Beer, Brats, and Heroes is an annual fundraiser for PHINMA HERO Network. More than PhP 30,000 was raised during this evening. The funds that HERO Network is able to raise goes to volunteer activities such as Brigada Eskwela, blood drives, and storytelling sessions with different partner organizations.
Funds were raised through ticket sales and the support of sponsors –Roberto M. Lavina, EJ Qua Hiansen, Cris Tanjutco-Ngo, Tanya Antonio, Jennifer Mungcal, Candy dela Pena, Sylvia Asperilla, Lina Andrada, Pyth Brion, Ricky Siton, Rodelio Garcia, Ricky Hilado, Mike Hilado, Pete Felix, Bobby Nuez and Ernette Paredes.
This is for others
"I had a lot of fun! Beer, Brats, and Heroes introduces me to other employees of the group," Ms. Iderlina Dario of Mariposa Foundation said. Employees from the PHINMA SBUs were given the opportunity to mingle and have fun. "More than that, the event highlighted the spirit of volunteerism (which is) – camaraderie and doing good," she added.
"We hope that we can do this more than once a year," another guest mentioned. PHINMA Foundation aims to inspire and gather more PHINMA employees to pursue and spearhead their own volunteer activities.
For HEROES and By HEROES
Beer, Brats, and HEROES 2017 is an annual celebration of PHINMA volunteers. Different PHINMA employees contributed their time, talent, and treasure during this evening.
"The bands are really talented," one of the guests said. PHINMA HEROES were treated to beer, bratwursts, and performances from singers and bands of PHINMA Corp., PHINMA Energy, PHINMA Properties, and Microtel." There were also fun games which were led by PHINMA HEROES Lara Madredia, Shane Rapanut, Genesis Flores, Maan Alvarez, Michelle Baucan, Kristine Liamzon, and Benedick dela Cruz.
The success of the event can be attributed to the volunteers Javi Bruan, Jane Barrido, Kathleen Dungo, Jeanette Mactal-Isip, Sheila Barce, Christal Agua, Benny Rosales, Nanette Villalobos, Candy dela Pena, Marionne Briones, Haru Kakefuda, Jerome de Guzman, Gabby Gunio, Aida Santamaria, Ivy Villasquez, Maricris David, Karen Seno, Kris Umali, and Mang Francis.
Visit us here to see more photos of the event.