The unflinching belief in the skill, spirit and resiliency of Filipinos as a people and as world-class professionals is part of PHINMA's core value of Patriotism. Each scholar is called to serve the country's best interests and to take an active role in nation-building. This was the central theme of the 13th General Assembly of the PHINMA National Scholarship – PiliPinas. What does it mean to choose the Philippines? What is my role in nation-building?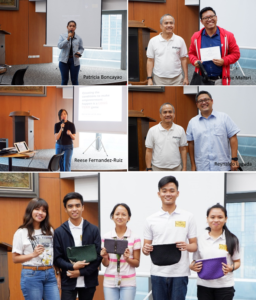 The afternoon session opened with welcome remarks from the PHINMA Foundation, Inc. President, Roberto M. Laviña. Mr. Laviña talked about the legacy of one of PHINMA's founders, Ambassador Ramon V. Del Rosario, Sr., who is celebrating his 100th birthday this July 25, 2018. Mr. Laviña shared about Ambassador Del Rosario's vision and what it means to work for a cause.
Three keynote speakers were invited as well to talk about their own advocacies and their own personal experiences on nation-building.
The first speaker, Reese Fernandez-Ruiz, talked about her social enterprise, Rags2Riches, Inc. and the importance of investing in underprivileged communities through entrepreneurship. The second speaker, Reynaldo Laguda, Executive Director of the Philippine Business for Social Progress (PBSP) stressed the importance of actively taking a role in building the nation by encouraging the scholars to work for the government. The last speaker was Arcie Mallari, founder of the organization, Silid-Aralan, Inc. He shared about his work, which focused on helping underachieving students from public schools.
Patricia Boncayao, an alumna of the PNS program, also shared about her experience as a public school teacher and as one of the pioneers of a local school initiative called Project Tipa. Project Tipa aims to reduce absenteeism in her school, Paaralang Sekundarya ng Heneral Nakar-Main, Quezon, by allowing students from far-flung areas to use bicycles to go to school. Their project has been received with great enthusiasm in their community and she wanted to encourage her co-scholars to come up with similar innovative solutions in their respective communities.
All speakers encouraged the scholars to seek ways to help those who are not given much opportunities in life. To quote Mr. Laguda:
"So, whom do we build for? For whom and how we build our nation are equally important. Who are part of the story of building? Who stands to gain from what we build? If this were a race, it is not about the first finisher.
It is about the last racer who crosses the line. It is actually that last racer that defines us as a nation and not just the first. Do we make sure that the last racer – including the least and the lost- are supported and enabled to finish the race?"
The event was also attended by partner organizations with similar advocacies such as Teach for the Philippines and Lahi.Ph.
Read Mr. Reynaldo Laguda's full speech here.